ONLINE COURSE BY javid tabatabaei
Learn to paint magical sunsets and mysterious reflections
| | |
| --- | --- |
| LIFETIME ACCESS | |
| Language: English | |
Online course by
Javid Tabatabaei
Learn to paint magical sunsets and mysterious reflections
LIFETIME ACCESS
Language: English
Javid is an Iranian Master of watercolor excelling in landscape painting. He appreciates a personal touch and improvisation and never follows the generally accepted rules.
A combination of vibrant colors, a masterful blend of textures, an extraordinary use of light and shadow effect, make Javid's landscapes expressive and mysterious.
You will be surprised at how easy it is to paint picturesque landscapes using Javid's watercolor technique.

Meet your instructor
Javid Tabatabaei
Javid Tabatabaei, is an artist who has been painting for more than 20 years.
He has participated in group and solo exhibitions all around the globe.His exhibitions have been held in a number of leading galleries and contemporary art foundations in China, Turkey, Italy, Pakistan, Japan, Serbia, Canada etc.
Javid Tabatabaei hosts both in - person and online workshops.
He has been on the jury for the international watercolor society of Turkey for 2 consecutive years.
Javid Tabatabaei is a Brand Ambassador of RockWell Art Supplies Inc. He has received a great number of awards worldwide.
Based in Vancouver.
---
For those who know the basic techniques, want to expand their knowledge in watercolor painting and learn to paint magical landscapes.
We offer different tariffs
4 video lessons in English

4 watercolor paintings
Access to a closed student's chat
Access to the course 45 days
LIFETIME ACCESS
4 video lessons in English
4 watercolor paintings
Access to a closed student's chat
Certificate of completion
Individual feedback from the curator (P. Beaven) within 90 days
Access to the course 90 days
LIFETIME ACCESS
If the cart contains items, it will be shown on the page

Для оформления заказа будет использована форма с кодом b-f1191
Buy the full course — Get the recording for free.
Complement your course with one more lesson!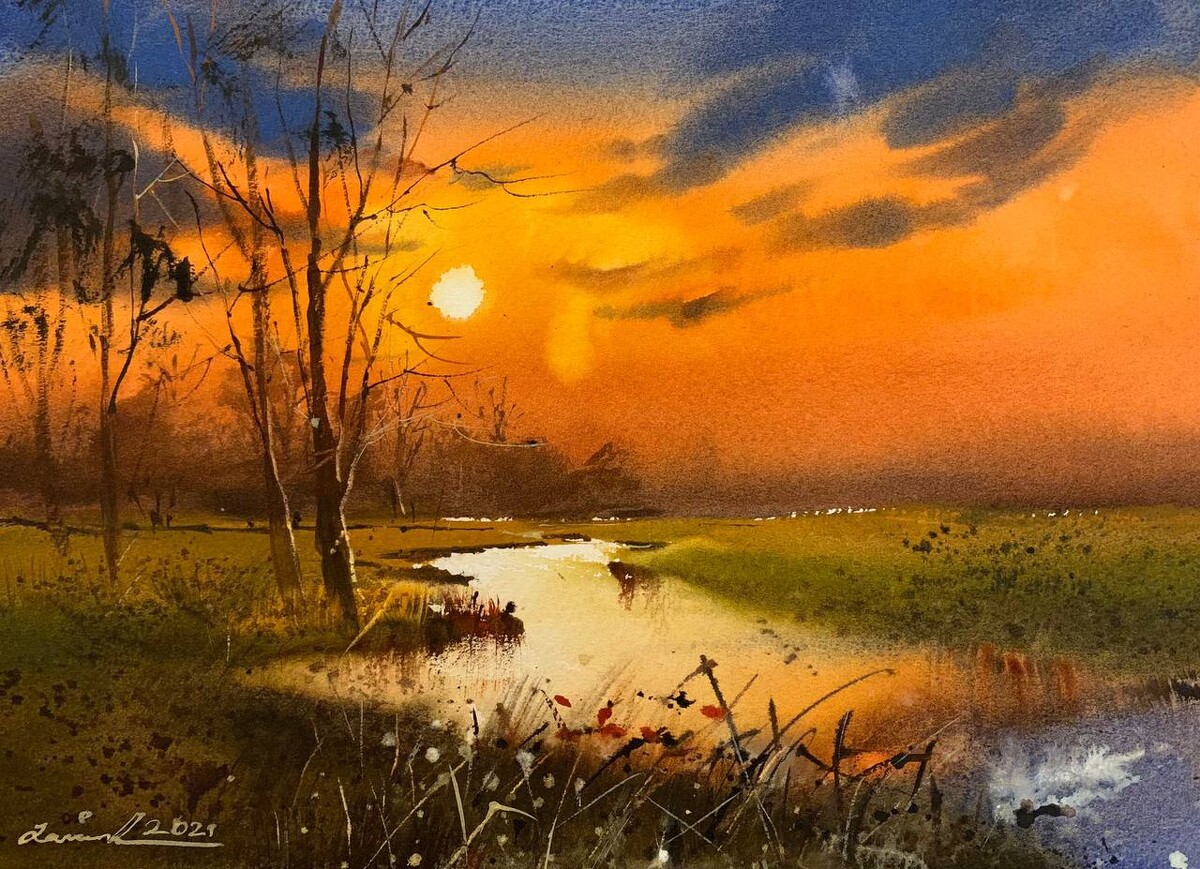 Lesson "Stunning landscapes"
In this lesson, we focus on painting the sky, selecting and combining colors for the sunset, and as a result - creating an impressive landscape
Our happy students say...
You have no risks - we support you!
In case after 1-2 lessons* of the coursе (within 1 week after purchase), you realize that it is not for you, YOU WILL GET YOUR MONEY BACK!
* Only applied, if you buy a full course
For tariff with feedback: If the start date is not convenient - we freeze the course
(1 time free of charge)
Freedom & Mobility
Make your own schedule and go through the lessons at a comfortable pace - whenever and whereever you like
How our course is organized?
Full course program
List of course materials
Friendly community of beginner and professional artists
Recorded video lessons (which build one upon another)
Watch lessons at your own pace
Closed students' chat
Feedback from instructor
Certificate of completion
Own portfolio
Skills and knowledge practiced
Part of our art community
Which materials do you need
for the course?
---
Paints - any high-quality artistic paints in cuvettes or tubes (e.g. Daniel Smith, Sennelier, Winsor&Newton, Schmincke, White nights, etc.)

Brushes

Paper Cotton, 300gr, CP (Sennelier,Hahnemuhle (Sesame, Turner)
White plastic or ceramic palette
Paper towels, a jar of water
Frequently asked questions
How do I start the course?
What happens after payment?
What do I need to study online?
Still have some questions? We will be happy to answer them. Please email us at info@artefactoschool.online