Learn to paint professionally from the world-renowned masters. We teach not only to paint but to think like an artist!



About Artefacto art school

Our instructors - professional world-renowned masters, who guide you during the learning process. Our students - is a closed international community of like-minded people. Our aim -

is to open up your talents and get you to the result.



We teach to "Think like an artist"
Professional world-renowned artists
Our instructors are professional artists which are popular worldwide. They have an academic education, and decades of experience behind them, and are winners of international competitions and exhibitions. These are the best artists in their styles who conduct master classes all over the world.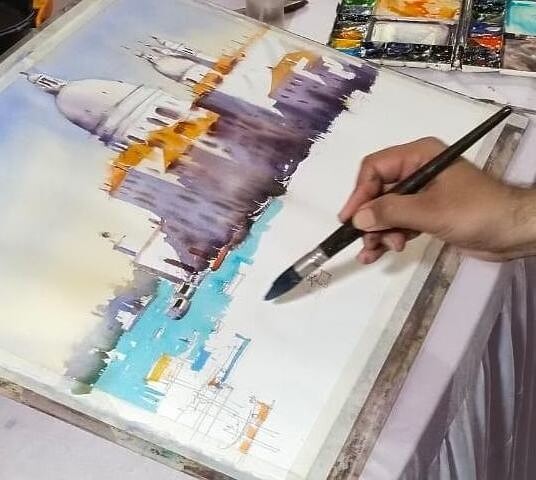 Our aim is to get you to the result, so during the learning process, you are personally guided by the authors of the courses and curators. We go from simple to complex and use gamification so that you don't get bored. Success awaits everyone!
We are not just engaged in individual learning, but we are building a community of like-minded people, where students support each other, give feedback, and inspire for new achievements.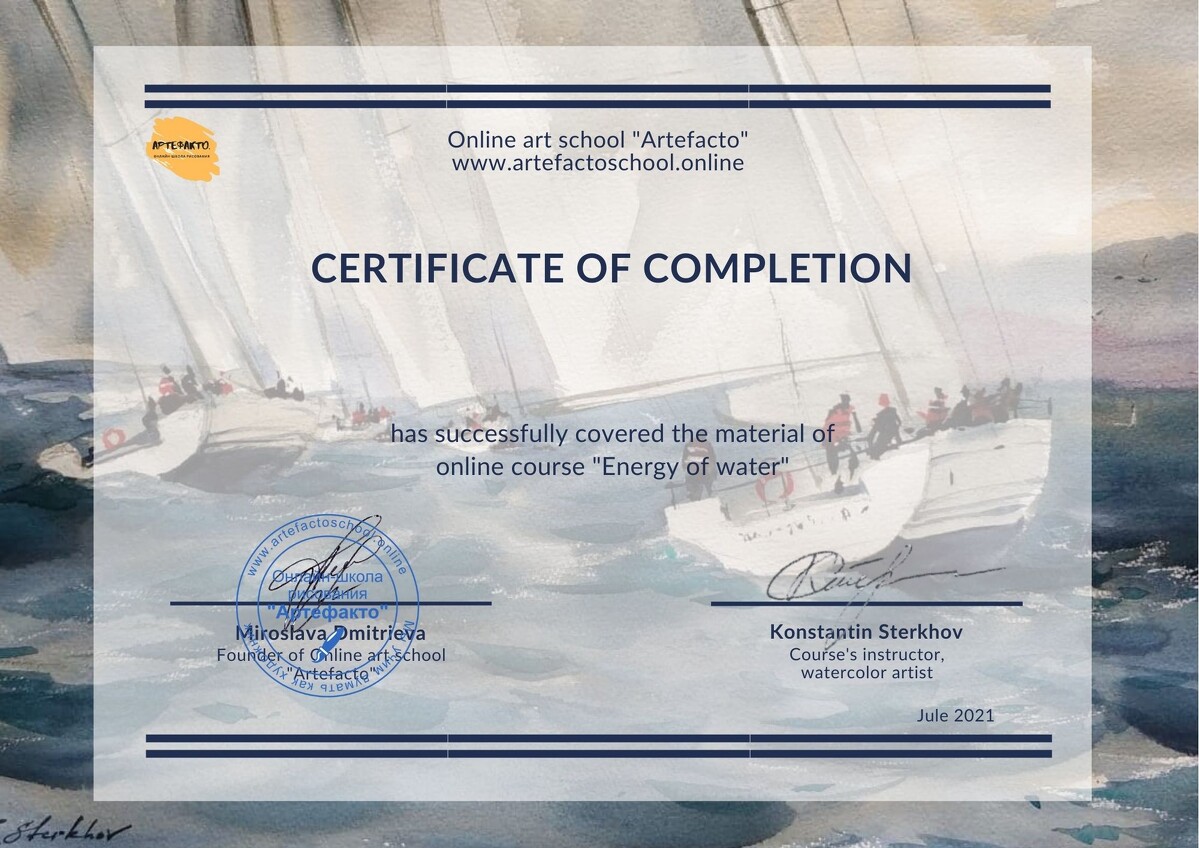 As a result of the learning, you will receive a certificate of successful completion of the course on behalf of its author and the founder of the Artefact art school.
Leading french art magazine "Pratique des Arts" says...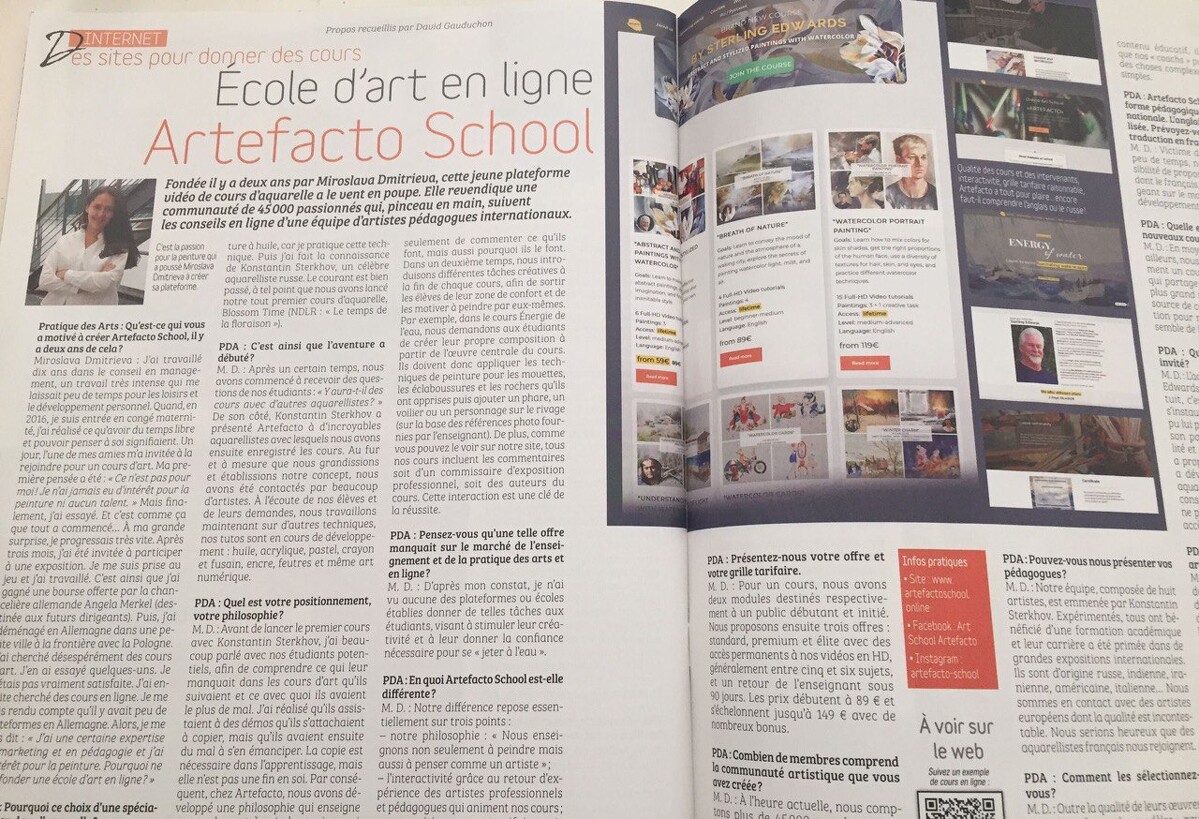 German Watercolor Society (Deutsche Aquarell Gesellschaft) says...
Over 30 years of painting experience and 20 years of teaching practice. Participant in more than 80 international and Russian exhibitions. Member of the jury of international competitions. Author of the book «Masters of Watercolor» and the founder of the magazine «Planet of Watercolor»
51K+ followers
Artist and architect, founder of the International Society of Watercolors, participant of major international exhibitions and festivals, founder of the School of Watercolors, the Lady of Flowers.

24K+ followers
Winner of the international competition of watercolors. His work was on the cover of American Artist magazine. Instructor of international seminars.
29K+ followers

An Iranian watercolor artist with 25 years of painting experience, one of the members of the Institute of the Development of Fine Arts.
95K+ followers
Winner of prestigious international competitions and participant in national and international exhibitions. Instructor of master classes in Europe and Asia.

37K+ followers
A world-renowned author, vice-president of the world community of watercolorists, and winner of prestigious exhibitions. Master of light and shadow. The official representative of the Mejillo Mission and Escoda brands.
73K+ followers
Internationally renowned watercolor media master and author. His award-winning paintings are in numerous private and corporate collections worldwide. Author of the best-selling North Light book "Creating Luminous Watercolor Landscapes, a Four Step Process".
3K+ followers
A member of the International Watercolor Society. More than 20 years of teaching experience. A winner and participant in a multitude of exhibitions, contests, and festivals. Museums and private galleries all over the world are eager to acquire his works.
34K+ followers
How are our courses organised?
Full course program
List of course materials
A friendly community of beginner and professional artists
Recorded video lessons (which build one upon another)
Watch lessons at your own pace
Read extra materials
Participate in the students' chat
Get feedback from instructor
Certificate of Completion
Own Portfolio
Skills and knowledge practiced
Part of our art community
Our goal - is to make you happy!
100% Money-Back Guarantee
In case after 1-2 lessons of the coursе, you realize that watercolor painting is not for you, YOU WILL GET YOUR MONEY BACK!
Freeze and Prolongation
The start date of the course is inconvenient? - we will "freeze" it. Don't have time to complete the course? - we will extend it for a month for 10 EUR.
All lessons are recorded in advance. You can learn whenever and wherever it is convenient for you - just log in to the platform and watch the lessons
Frequently asked questions
How do I start the course?
What happens after payment?
What do I need to study online?
How does the learning process work?
Our E-mail:
info@artefactoschool.online
For partners and collaborations:
miroslava.artefacto@gmail.com

Our working hours:
Monday - Friday
7 am - 6 pm Central European Time (CET)
Artefacto learning platform Limited
Company's number: 3176739
to the founder of the school
Follow us on social media: