NEW ONLINE COURSE BY FRANCESCA POSSATI
Realistic Birds with Colored Pencils
Study the drawing basics, create 3 stunning birds, and open up the world of colored pencils with a true master
NEW ONLINE COURSE BY FRANCESCA POSSATI
Realistic Birds with Colored Pencils
Study the drawing basics, create 3 stunning birds, and open up the world of colored pencils with a true master
LIFETIME ACCESS
Language: English
You've probably seen them – drawings so beautiful, neat, and realistic that you can't imagine they were created with colored pencils. It seems that making them takes ages and enormous effort. But in fact, it is much faster and easier. Let us show you!

At this course, we will master the fundamentals of working with colored pencils, learn to hatch, convey various textures, regulate pencil pressure, and blend colors.

Our instructor Francesca Possati will help you build confidence in drawing and accompany you through the whole process, from initial sketch to the final details. Join us at the course and discover the opportunities of colored pencils with Francesca!
3 hours of video lessons with detailed explanations in English and lifetime access
We will make 3 realistic bird portraits and hone our drawing skills
Individual feedback from the instructor Francesca Possati
This course will suit both beginner and professional artists who:
- want to learn to draw realistic birds with colored pencils
- would like to get or refine the drawing skills
- wish to try a new artistic medium and become a master of colored graphics
Francesca about the course...
Course Table of Contents
8 lessons (total 3 h.)
What results you will achieve at the course:
Learn to create realistic textures with colored pencils
Understand how to convey shape and volume using tone and color
Train your hand and learn to hatch like a professional artist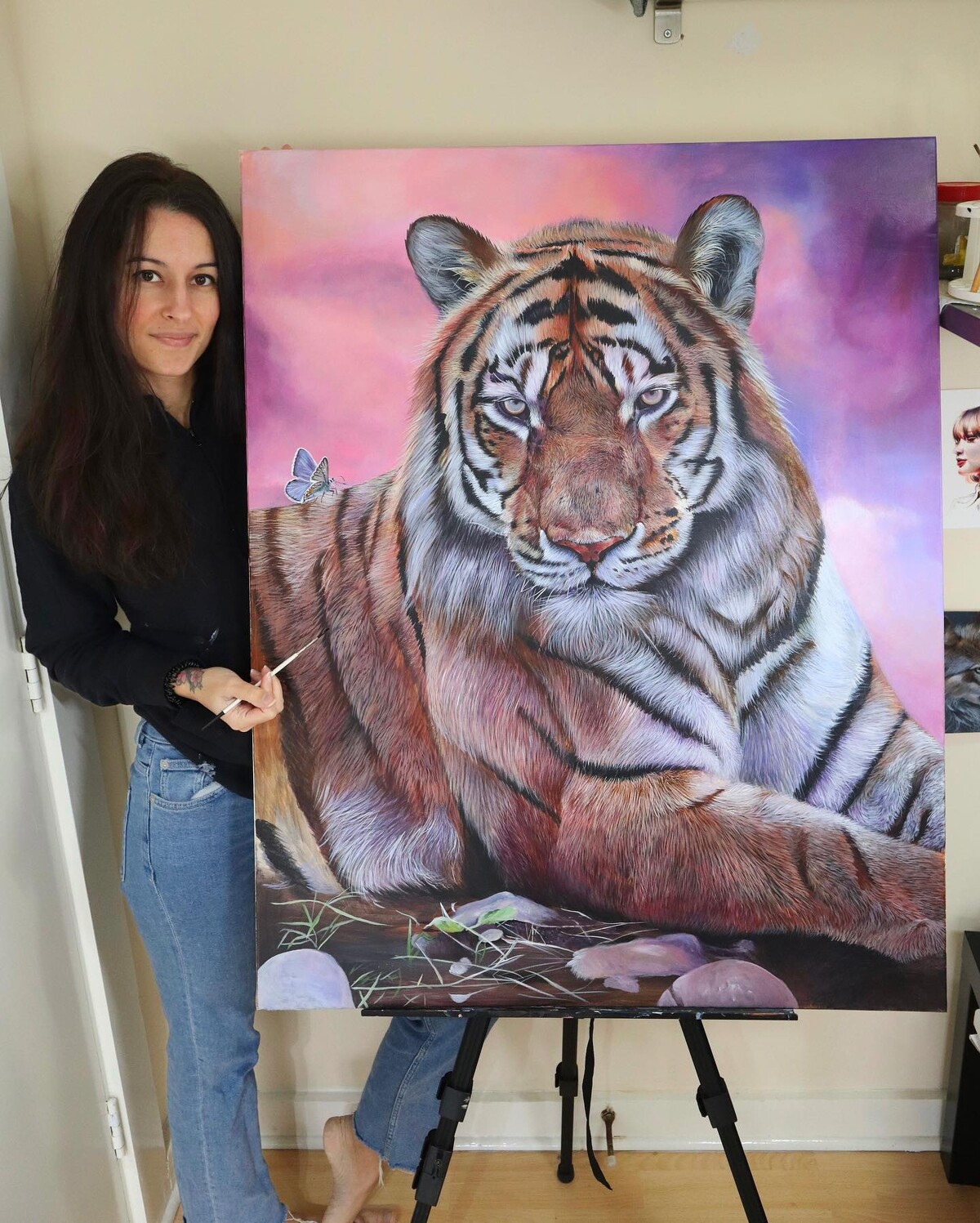 A self-taught realism artist and online teacher

Specializes in graphite and colored pencil portraits
She works with versatile mediums, such as pencils, acrylics, watercolors, and pastels
Her artwork covers a wide range of subjects including her own portraits, journeys, experiences, and experiences of her customers
Francesca's acrylic painting was selected among 800.000 submissions from all over the world for the Pebeo Mixed Media International Art Prize 2019 with exhibitions in Menier Gallery, London
8 lessons (total 3 h.)
3 pencil drawings

Access to the students' chat

Access to the course 60 days
8 lessons (total 3 h.)
3 pencil drawings
Access to the students' chat
LIFETIME access to the course
Price:59$

8 lessons (total 3 h.)
3 pencil drawings

Access to the students' chat

Individual feedback from instructor Francesca Possati on each drawing within 75 days
Certificate of completion
LIFETIME access to the course


Only 10 places
are available
Price:79$
You have no risks - we support you!
No risk for you
In case after 1-2 lessons of the coursе you realize that pencil drawing is not for you, YOU WILL GET YOUR MONEY BACK!
For plans with feedback - If the start date is not convenient, we freeze the course
(1 time free of charge)
Freedom & Mobility
Make your own schedule and go through the lessons at a comfortable pace - whenever and wherever you like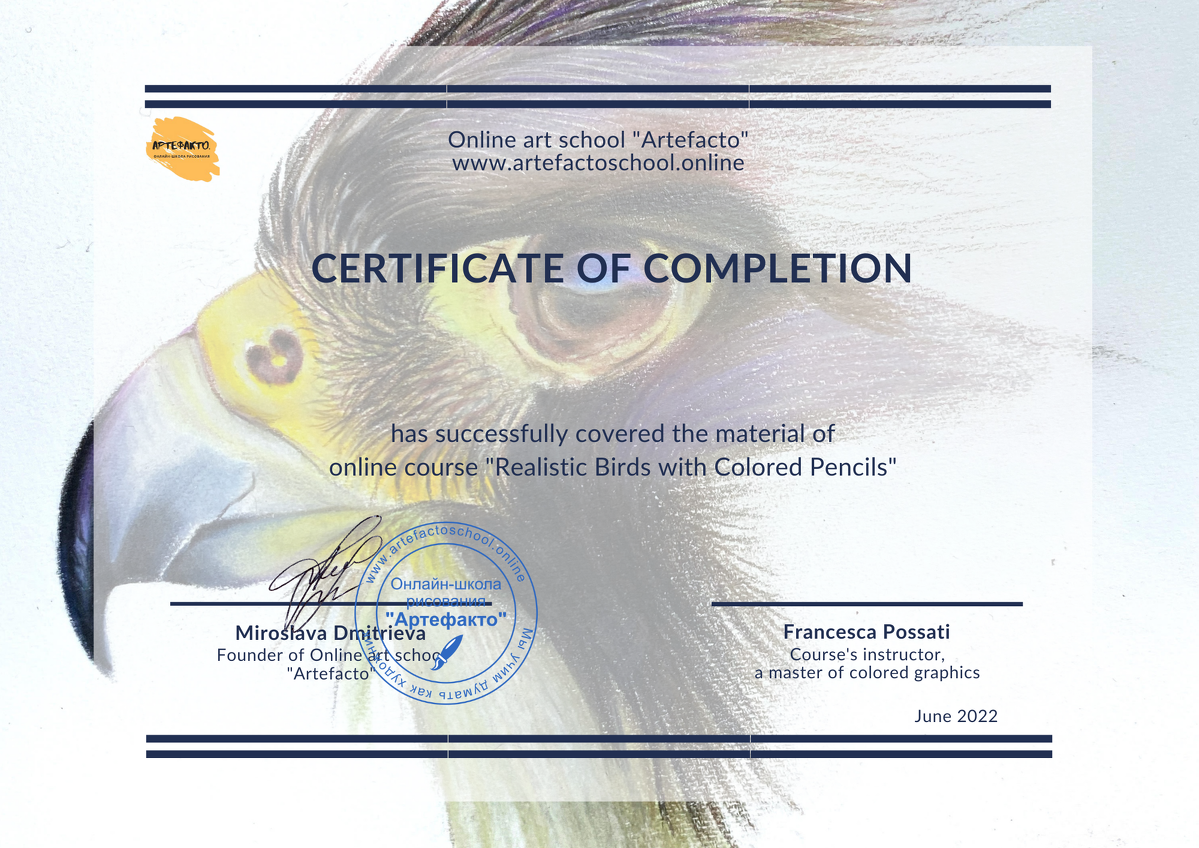 Certificate of completion
Upon completion of the course for the students of Elite plan we issue a certificate. The certificate could be used as a proof of your qualification's upgrade at work (if it is related to arts) and for your private affairs as a recognition of your mastery in drawing.
How is our course organized?
Full course program
List of course materials
Friendly community of beginner and professional artists
Recorded video lessons
Watch lessons at your own pace
Closed students' chat
Feedback from instructor
Certificate of completion
Own portfolio
Skills and knowledge practiced
Part of our art community
Which materials do you need
for the course?
---
Colored pencils, mix of wax and oil of 2 brands (Caran D'Ache Luminance(wax), Caran D'Ache Pablo (oil) and Faber Castell Polychromos (oil)

White hot pressed watercolor paper 300 gsm (Winsor and Newton, Fabriano, Arches)

Eraser, electric pencil eraser
Mop brush to clean the eraser dust
Pen cutter from Slice
Embossing tool (double ended 0.8- 1 mm)
Examples of Francesca's works
Frequently asked questions
How do I start the course?
What happens after payment?
What do I need to study online?
Still have some questions? We will be happy to answer them. Please email us at info@artefactoschool.online