recording OF 3 days online marathon
by Konstantin Sterkhov
Watercolor Foundations 2.0
Learn the foundations of watercolor and create 3 paintings with Konstantin Sterkhov, even if you have no experience in watercolor
RECORDING OF 3 DAYS ONLINE MARATHON by Konstantin Sterkhov
Watercolor Foundations 2.0
Learn the foundations of watercolor and create 3 paintings with Konstantin Sterkhov, even if you have no experience in watercolor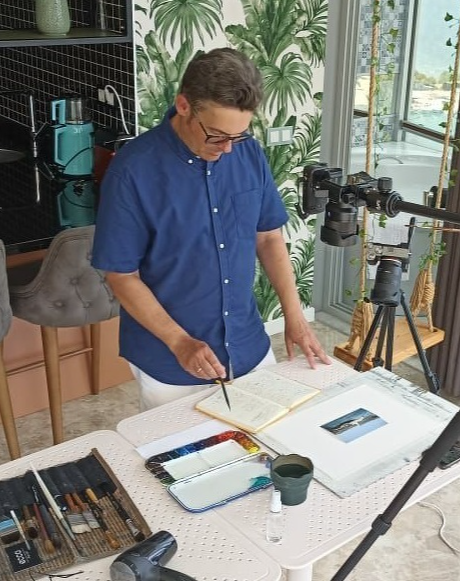 This marathon is for you if you:
Have the fear of a «blank page»
Want to paint but don't know where to start
Can't achieve the desired results in painting
Don't know what materials to use in the beginning
Would like to learn the fundamental principles of watercolor painting
What you will achieve at the marathon:
After registration, you will get an introductory video. Then you'll get an access to recordings of 3 workshops of the marathon . We will go together from discussing the necessary materials to creating a full painting of your own
Learn all about necessary materials for watercolor painting

See how to make a lovely artwork with only 3 primary colors

Paint a cute sleeping kitten
Study the most common watercolor painting techniques (wet-on-wet, wet-on-dry, scratching, splashing, strokes, dropping in)

Learn to show details and create different edges

Make a painting with pink roses in a natural environment
3. Painting lesson «Seascape with seagulls»
Learn to create more complex paintings

See how to combine a reference photo and imaginary subjects

Make a seascape with seagulls, figures, and a ship

Question-and-answer session
What you will achieve at the marathon:
Gain knowledge of how to select necessary materials
Learn to paint with a limited color palette
Get acquainted with the key watercolor techniques
Have your own collection of 3 fantastic paintings
Meet and interact with like-minded people from all over the world
+ finally find a truly wonderful hobby!
Meet your instructor
Konstantin Sterkhov
Over 30 years of painting experience and 20 years of teaching practice

70 international and 10 solo exhibitions, member of the jury for various international competitions

My paintings are placed in museums, private and corporate collections worldwide

I am an author of the book «Masters of Watercolor» and the founder of the magazine «Planet of Watercolor»

Brand ambassador of the leading producers of art materials (Daniel Smith, Roubloff, Nevskaya Palette)

Member of Artists Union of Russia, Saint-Petersburg Watercolor Society, and Watercolor Society of Finland
Will observe the flow of the paints that magically become a wonderful painting!
A systematic step-by-step approach makes a painting process clear and simple
An author's method allows you to empty your mind and enjoy the creation process
Recording marathon «Watercolor Foundations 2.0»
14.99$
4 lessons (6h 18min)
3 watercolor paintings

LIFETIME access
BONUS: brochure «Watercolor supplies guide»
24/7 access from any location at your own pace
Recording marathon «Watercolor Foundations 2.0»
14.99€
4 lessons (6h 18min)

3 watercolor paintings

LIFETIME access
BONUS: brochure «Watercolor supplies guide»
24/7 access from any location at your own pace
Feedback from our students
Examples of Konstantin's work
Still have some questions? We will be happy to answer them. Please email us at info@artefactoschool.online