Online art marathon
with Joe Dowden
Online art marathon with Joe Dowden
«Realistic Landscapes»
---
The autumn began and brought various fantastic landscapes with it. Those magical views with bright contrasting colors on the trees, dark mysterious rivers, birds migrating to the south, stunnung sunsets ...
How can we better live it, than reflect on paper?
Each detail of it! And you will be going into the world of realistic landscapes with a true master of watercolor!
"From foundations to a masterpiece!"
The art marathon is a logical set of recordings of a 2-hour and
a 3.5-hour workshops with Joe Dowden.
Your guide on this journey is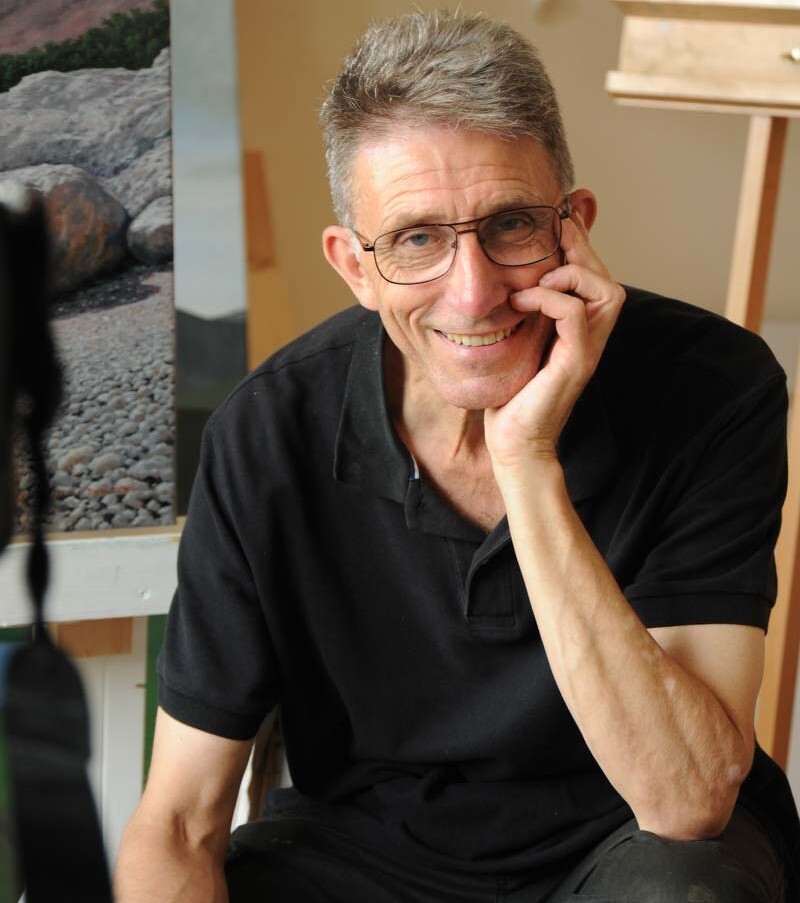 "My workshops show you how to create a real three-dimensional place, on a flat piece of paper, and make it so real and beautiful that you want to be there. It puts yourself and your viewers in that place. I have used every medium, I have sold many drawings, watercolors, and oil paintings internationally. Watercolor is by far the best medium for creating a place and putting you in it."

A member of the expert group of the British Society of Artists (SAA)
An author of many books and publications, host of TV programs, various seminars, and workshops around the world.
A participant of numerous exhibitions whose paintings are sold at the UK Art Gallery
Click here to see the works of Joe Dowden
Who is this art marathon for?
For those who already have basic skills in watercolor and want to learn to convey mood and atmosphere of nature, to depict light, textures, and achieve realism
Art marathon consists of 2 modules
It is the best chance to try yourself in this fantastic style! You will learn key watercolor techniques that bring power and realism to a painting. Plunge into the bright colors of autumn, going from foundations to full-fledged paintings!
The recordings include the analysis of some students' paintings that can help you to observe the most common mistakes and get recommendations for improvement!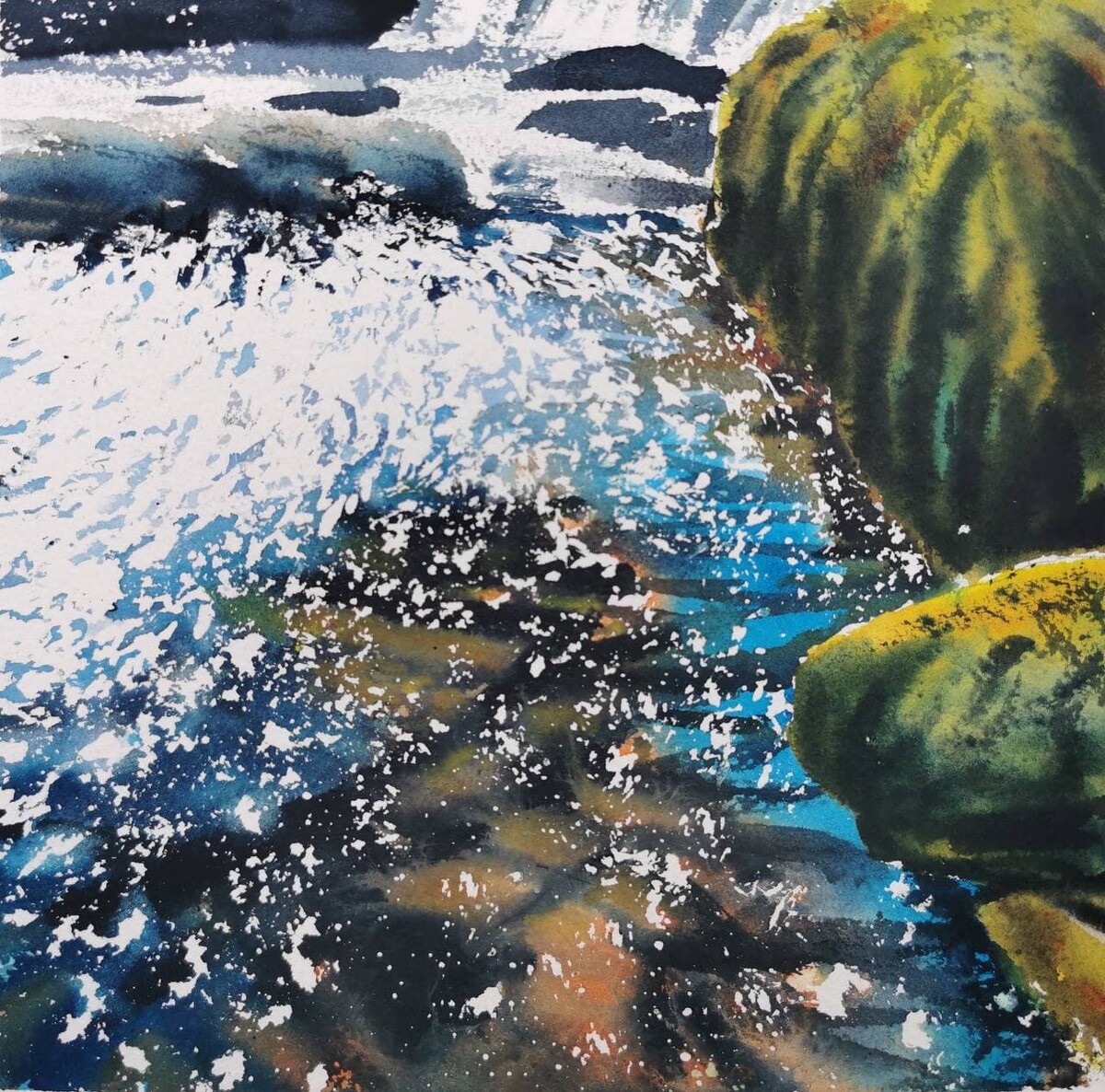 Learning and applying the key techniques in realistic style
In this recorded 2-hour workshop, you will learn:
key techniques for painting realistic landscapes
key principles of a great composition
about materials used for realistic watercolor paintings and Joe's recommendations on how to work with masking fluid to create extra radiance and complex water textures
have answers to the most common questions
And, of course, under Joe's guidance, create an amazing waterfall with rocks, and a lot of sunflecks.
Module 2. An autumn landscape
Mastering the techniques learned in Module 1 and creating an impressive autumn landscape
In this recorded 3.5-hour workshop, you will learn:

to mix realistic colors which distinguish your painting from others
to create bright light and sunshine
to use effective techniques for painting autumn leaves, water, and reflections
to find areas for improvement in your painting, to consistently get better (recorded analysis of students' works with recommendations from Joe)
Step by step, you will paint a beautiful autumn landscape, "Autumn on the lake".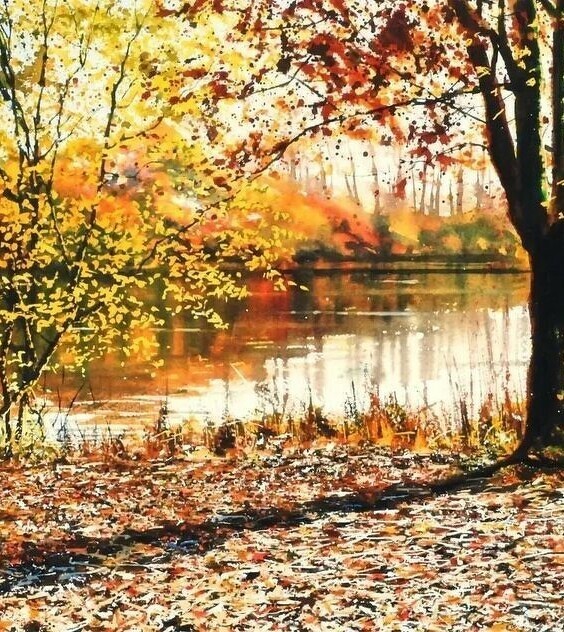 You will learn watercolor techniques for realistic paintings, which can enable you to paint many different subjects. It is an absolutely unique and impressive style.
Techniques for painting foreground texture, autumn leaves, water, and reflections.
Bright and sunny painting
Painting bright light: getting detailed light without having to use white paint.
The most important area of watercolor, the least understood and the most problematic is tonal values.
Joe will share with you how to mix realistic colors which will distinguish your painting from others.
Understanding what a place is about, knowing the people leaving there, and the history in a landscape help you to be more observant and accurate.
2 amazing paintings in realistic style
> 5 hours of recorded workshops
Lifetime access to the materials
Two e-handbooks "Realistic Landscapes" by J.Dowden
2 amazing paintings in realistic style
> 5 hours of recorded workshops
Lifetime access to the materials
Two e-handbooks "Realistic Landscapes" with tips by J.Dowden
Price: 89€
If the cart contains items, it will be shown on the page

Для оформления заказа будет использована форма с кодом b-ce758
Two plans are available: Standard and Maximum. Enter your name and email address, make payment
Register here
Receive an email (please check spam folders) with all the details on how to access the lessons. In case of any questions, please contact us at info@artefactoschool.online
With the link you received via email, enter the marathon program and watch the lessons at your own pace
Detailed Program of Module 1
Introduction and aquaintance
Joe explains his way to watercolor. How he learned to work with light and why he considers this aspect to be the most important. How he chooses places and plots.
Composition and key techniques
Based on his finished works, Joe explains what play of light has triggered him to paint them.
Joe explains why he uses it for creating his paintings, how to choose correct masking fluid, which brushes to use, describes the techniques for applying it with different kinds of brushes.
You will learn what colors Joe uses and why he has chosen those colors.
Along the way, Joe explains how he creates a complex and rich texture of water, how to match and mix colors, paint shadows and create the drama of the painting in general. Joe also talks about how an ordinary mirror helps him to identify the flaws in a painting.
Removing the masking fluid
You will learn how to remove masking fluid from the surface of your painting and see how to make minor corrections.
Some closing remarks and the question-and-answer session
Detailed Program of Part 2
The maximum size should be no more than 15 inches wide, ideally 12 inches - A4 size. Drawings can be provided a few days before. You can trace the drawing or use tracedown. The drawing will be provided to you as a separate reference
You need to keep the painting small, otherwise there is too much work
Analysis of students' works
Exemplary paintings of Joe Dowden
The story of the place by Joe Dowden
(to the reference photo of Part 2)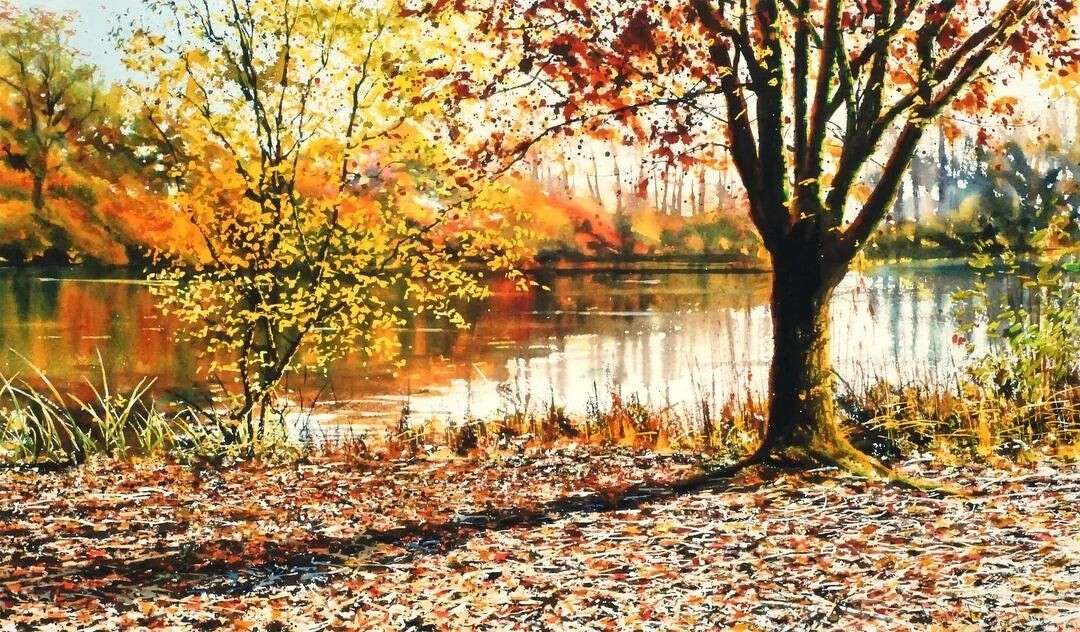 "There are many lakes and ponds like this in England. They are referred to as ponds.This is one of many created in the ancient rural Weald of Southern England after much of the great forest was felled. They were created as Mill ponds centuries ago, in the early medieval era, before the birth of modern technology. In some places, such as the Tillingbourne Valley, battles were fought in the fields by workers for competing estates over water rights.
---
"Understanding what a place is about, knowing the people working in the area, and the history in a landscape, allows me to be more observant and accurate. Truth is beauty."
---
The local people in the Countryside are often direct descendants of the people in these events. This pond is in the water catchment area for the very beautiful people River Arun, whose lower reaches form the longest tidal river in England. 500 years ago, some of these pounds were used for iron making forges, (hammers), and furnaces, and many local place names feature the words "hammer" and "furnace", and also "fold" (German "Feld"), for the clearings in the forest from which the English word field originates. The ponds, fields, and forests are all connected with one another, and with the culture and landscape of this region.
Now the Mills have gone, or are no longer working, but the ponds remain.
Understanding what a place is about, knowing the people working in the area, and the history in a landscape, allows me to be more observant and accurate. Truth is beauty. For example, to paint the far shore of a pond or river, where it's difficult to see it, understanding what the shoreline is doing enables me to paint it authentically, so the painting speaks with authority. On a lakeside shore, the trees are slowly falling in. An urban park lake or a lake in a public garden is manicured and tended, so this is not happening. That is why a wild lake like this is always going to be far more beautiful than a well-maintained lake in a controlled setting. It is why the more chaotic, slowly degrading landscape of Southern England is so beautiful. It is no longer maintained to a great extent. Knowing this enables me to paint it more effectively. A painting has to do this to put the viewer's feet on the ground - to put them in the scene. A good landscape painting does not tell you how to feel, any more than a real landscape dictates to you what your emotions should be. A painting allows you to generate your own response, by putting you in that place.
I was working in this region when I stopped for a break at this pond, and I had not intended to paint it. Many amazing views are stumbled across by accident. The most challenging part of watercolor is finding great material. My main concern is not simply finding locations, but finding good light conditions. I spend my time looking for the ideal light and working out the best time of day to visit a location.
Frequently asked questions
How and where does the marathon take place?
What should I do if the email didn't come?
How is the feedback from the artist provided?
Can I sell or participate in exhibitions with the paintings created during the marathon?
Contact us
For customer care:
info@artefactoschool.online

For collaborations:
miroslava.artefacto@gmail.com

Contact the founder:
miroslava.artefacto@gmail.com

Our working hours:
Monday — Friday
7 am — 6 pm Central European Time (CET)
Artefacto Learning Platform Limited